Andrew

Andrew Gower in real life
Owner
Andrew Gower
Occupation
Previous CEO
Started working
1998
Ended working
2011
Known for
Creating RuneScape and Founding Jagex
[view] • [talk]
Andrew, known outside RuneScape as Andrew Gower is the creator of RuneScape and one of the founders of Jagex. Apparently, he is known to certain Gielinor gods, such as Guthix. Similarly to other J-mods, he also has a private account. In-game and in the God Letters/Postbag from the Hedge, Andrew is referred to as "the Mage Gower." Adding "Andrew" to your Notes will result in "Cabbage". His Clan Chat name is also "Cabbage". During The Fremennik Trials, one of the items Pontak the Farmer sarcastically requests the quest undertaker to bring him is Andrew Gower's skull. As of 2011 he is no longer part of Jagex.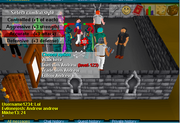 External Links
Ad blocker interference detected!
Wikia is a free-to-use site that makes money from advertising. We have a modified experience for viewers using ad blockers

Wikia is not accessible if you've made further modifications. Remove the custom ad blocker rule(s) and the page will load as expected.