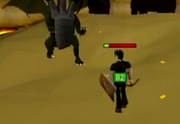 Godly Alex
(now named as
ElysianField
) is a
RuneScape
player and a video maker.
With a video called "Karma" he made it to the ChrisArchieProds community channel or rather as some call it No1s perfect community channel
He generally makes comical style of videos such as trolling other people. He also attempted to "be better than Woox16" by making a solo video of him fighting King black dragon with just bronze bolts, but unfortunately couldn't do it. He is also a high levelled player who has a "pation" for quests. He has completed While Guthix sleeps and many many other quests, his stats are very high but the only skill he lacks is dungeoneering.
Besides runescape videos he has also made a couple of black ops videos at the beginning of his YouTube experience. His formar names were:"Metallica 97, Heavy MetaI, Ivlr metal". According to him he likes Heavy metal this can also be seen by checking his YouTube channel
External links
Ad blocker interference detected!
Wikia is a free-to-use site that makes money from advertising. We have a modified experience for viewers using ad blockers

Wikia is not accessible if you've made further modifications. Remove the custom ad blocker rule(s) and the page will load as expected.