Home Page was known for being 2nd to 99 fishing. He was the first player to attain 200 million Fishing experience on Oldschool RuneScape, which he achieved on 11 January 2014 (UTC). On 6 September 2014, he became the first player to obtain 200 million Defence experience. He is also the only player to accomplish 2 rank 1's. 
He was also popular for having 17 hitpoints, and a high level Strength from Fishing.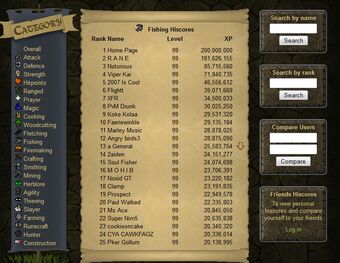 Ad blocker interference detected!
Wikia is a free-to-use site that makes money from advertising. We have a modified experience for viewers using ad blockers

Wikia is not accessible if you've made further modifications. Remove the custom ad blocker rule(s) and the page will load as expected.