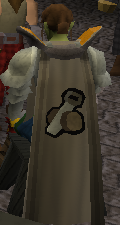 Jamandy52 is a RuneScape player. He wears his Maxed Cape with the pug shirt from a past christmas event with flared trousers. He also wears a chromatic party hat. Jamandy52 has a twitter, facebook, and YouTube channels which offer more information on his skilling goals. Jamandy52's home world is world 70, the homeworld for his clan "Jamandy52", a clan for players of Runescape with no requirements. 
He is one of the only players credited for writing a forum community's Forum Specific Rules in the Business and Services Community.
Jamandy52 held a stickied thread in the Business-Services community listing the businesses which are open and leaving ideas to better the business community. This thread was created after the Forums reshuffle in 2010 and lasted until November 2011 when the thread was handed off to Schlangekopf.
Jamandy52 is a general in 1EliteSC a non combat stealing creation clan based in world 70.
Jamandy52 also runs his own business- Jammin Construction; a flatpacking and plank supplying furniture company in the RuneScape Forums, established February 23, 2009.
Distractions and Diversions
Jamandy52 was once the owner of the star clan Star Rebels. Later he handed ownership to his generals who re-established the clan under the new name- Team Rebels.
Jamandy52 helped to establish effigies cc, which later converted to effigieschat, then finally effigiesplus- a moderate sized effigy assistance clan that used the friendschat Effigiesplus until the limitation of effigies. Then the chat died out due to lack of need.
Jamandy52 currently holds rank 18 [true rank 22] in construction and was the First RS player to reach 200m construction experience while still being untrimmed.
Skill Achievements
200m Construction Experience Jan 28th 2012
200m Cook Experience August 12th 2012
200m Dungeoneering Sept 30th 2014
1billion xp Feb 7th 2015
Max Cape May 16th 2015
1.2b Xp Oct 18th 2015
1.6b XP January 2017
1.8b Xp August 2017
Jamandy52 trimmed his construction cape with Mining and Cooking Saturday March 12, 2012. Approximately 6 weeks after achieving 200m construction untrimmed. After achieving the Max Cape, He has stated he will be going for 200m Fishing and Invention next.
Other Notable Tidbits:
Jamandy52 met his partner playing Runescape. Jamandy52 often cites that his family including his parents play the game. Jamandy52 owns a clan, named after him, ran by him, his parents, and his Husband, who he met through runescape. Jamandy52 and his Husband have fostered a daughter who is also a member of their clan, but hasn't found the same passion for the game and only occasionally logs in.
Jamandy52's IRL name is Luke. He is 26 years old. He takes long breaks from the game to work on Political Campaigns and travels all over America for work.
Jamandy52 Clan QFC:
☀Quick find code: 288-289-365-65786686
Other Fansite related Achievements
#1 for Experience gained on Runeclan - August 1st 2017 -
Curator of Runezone's 2 year long LGBTQ Appreciation and Discussion thread
Luke's Anorak - Luke's current goals and achievement thread
RuneRadio Guest twice. Also won Runezone's Dungeoneering XP competition.
Runescape Bits and Bytes
April 2017 Skill of the Month Winner!
March 2017 Skill of the Month Winner!
Feb 2017 Fishing Skill of the Month Winner!
Jan 2017 Slayer Skill of the Month winner!
Dec 2014 Skill of the Month winner!
Dec 2013 Skill of the Month winner!
Nov 2013 Skill of the Month winner!
Ad blocker interference detected!
Wikia is a free-to-use site that makes money from advertising. We have a modified experience for viewers using ad blockers

Wikia is not accessible if you've made further modifications. Remove the custom ad blocker rule(s) and the page will load as expected.