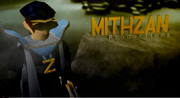 Mithzan is a popular video maker, probably best known for his "Ask Death" series. Most his videos are comedy related and are uploaded over his channel Funondabayou13max (link: ). Another type of videos he makes are quest guides and RSMV's. He is a good friend with Chiszle and Skythekid. Currently on his channel there is (approximetly) 16000 at the moment...
Mithzan quit making RuneScape videos to persue other film making possibilities. He currently operates a YouTube channel dedicated to a Minecraft Machinima series called Definitely Accidental which is co-produced by his long term friend House Owner and fello video maker Dartron.
On June 26th, 2014, Mithzan uploaded a RuneScape video on his Funondabayou13max channel, "Years Later", hinting on a possible return to making RuneScape videos.
Currently, Mithzan has a new YouTube Channel, called Mithzan where he uploads Minecraft videos as well as other games.
Ad blocker interference detected!
Wikia is a free-to-use site that makes money from advertising. We have a modified experience for viewers using ad blockers

Wikia is not accessible if you've made further modifications. Remove the custom ad blocker rule(s) and the page will load as expected.