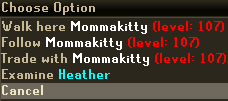 Mommakitty now being called milione is best known for being a runescape video maker who won lifetime membership in 2009.        
she won together with excl, tehnoobshow and some other Runescape Video makers alot of goodies and lifetime membership back in 2009,        
External Links
Ad blocker interference detected!
Wikia is a free-to-use site that makes money from advertising. We have a modified experience for viewers using ad blockers

Wikia is not accessible if you've made further modifications. Remove the custom ad blocker rule(s) and the page will load as expected.