This page isn't about a player. It's about many players who currently have 9 Constitution and some who used to have 9 Constitution.

Top Constitution accounts (over 3 combat)
#1: Andy Grammer/Quidditch (Total level: 2276) 99 Constr/Pray/Herb/Hunt/Div/Wc/Summ/Mining/Smith/DG/RC/Craft/Slayer - First 9HP to 2000 total, lowest total to ever get 99 Construction legitimately
#2: Who (Total level: 2116) 99 Firemaking/Divination/Prayer/Smithing/Slayer
#3: Ism (Total level: 2032) 99 Fm/Pray/Wc/Cook/Fish/Smith/Constr/Mining/Fletch/Craft/Herb/Rc
#4: 9 HP (Total Level :1851) x14 99's including 99 Slayer. Only combat stat = 60 Defence
#5: Magnificent (Total level: 1680) 99 Prayer/Magic/Summon/Range)
#6: Cow Ass (Total level: 1649) 120 Dg + 99 Firemaking/Cooking
#7: Byse (Total level: 1645) 99 Fletching + Runecrafting
#8: Goner (Total level: 1513) 99 Fm/Pray
#9: 9HP Summon (Total level: 1302) 99summ,98 herb/cook/fm
#10: 9HP skiller (Total level: 993) 98 Dung, 89rc/92fish

11: 9Lp (Total level: 396)
12: The 9 HP (Total level: 133)
Top Constitution Accounts (Pure Combat 3)
#1: 9HP (Total level: 1714) 99 Slay/Craf/Div/Dunge/Farm/Fm/Cook/Constr
#2: Nine Lives (Total level: 1550) 99 Agility/FM/Rc/Slay/120 Dg
#3: Bung (Total level: 1475) 99 Cook/Fletch/Fm/Smith/Herb/Constr/Div
#4: Brazier (Total level: 1314) 99 Firemaking
#5: noob im 9 hp (Total level: 1301) 99 Runecrafting/Firemaking
#6: 9 Hit_Point (Total level: 1242) 99 Herblore + Woodcutting
#7: 9Con (Total level: 1064) 99 Construction
#8: 9HP Chippy (Total level: 995)
#9: Sauhnik (Total level: 577)
#10: Popularity (Total level: 419)
#11: Mundungus (Total level: 132) 99 Farming (all other skills at 1)
#12: OG Papery (Total Level: 52)
"Grams" was removed from this list for the buying and selling of the account
Players whose current display names are unknown and cannot be checked or are F2P and haven't been active to update Hiscores
Ul: Last known total level: 1605
Legacy 9HP: Last known total level:1555
Doie: Last known total level: 1392
9Hper: Last known total level: 1309
Appetizer: Last known total level: 1181
Schtu: Last known total level: 728
J T I V: Last known total level: 81
Lord Art
Gurlluver75
Bunny(king/prince/queen)
Players who have leveled Constitution passed level 9:

Note 1: Bunnyking, queen and prince are the same person with three accounts.
Note 2: 9hp Summon, 9hp Skiller, cowassgaming, cow skiller and Cow Ass are the same person.
Note 3: Ruiny(10hp now) and Andy Grammer are the same person, two different accounts, with another named Mundungus with all skills 1 and 90+ Farming.
Questions and Answers: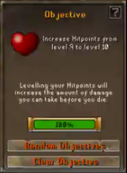 Q. How can they have a HP level of only 9 when you start with 10?
A. When RuneScape 2 (as it was then known) was released, the experience required for level 10 in any skill was slightly raised (from 1.000 to 1.154). This meant that characters with no extra Hitpoints experience in RuneScape Classic were brought to RuneScape 2 with only 9 Hitpoints. //RuneScape Wikia
Q. Can anyone of those players have a combat level under 3?
A. The minimum combat level is still 3 for those players.//RuneScape Wikia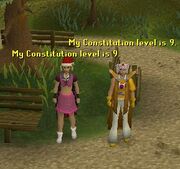 More Information:
Runescape 9Hp accounts weren't that popular until Jagex released the "Quick Chat" update. This allows you to show off your skill levels with just a few clicks.
Some players with 9 Hitpoints don't want other players to know their names. //YouTube videos
Very many players with 9 HP changes their name to '9HP', 'I got 9HP' or something like that. The most 9HP Player are skillers, this mean: they only train uncombat skills. (Use xp lamps for Slayer)
How to show your HP level of 9:
Tell your Constitution level by Quick Chat.
At the 2007 Halloween Event, a monster could hit you all your hitpoints and then you would die and come back to the entrance of the spooky house.
In Examine Settings, allow people to look at your skills, where they can see your constitution level.

Possible Combat Levels and How to Train
Combat Level - 115
Constitution - 9
Attack - 99 (Soul Wars, Warriors Guild, Pest Control)
Defense - 99 (Soul Wars, Warriors Guild, Pest Control)
Strength - 99 (Soul Wars, Warriors Guild, Pest Control, Barbarian Fishing)
Magic - 99 (Soul Wars, Non-combat spells, Circus, Pest Control)
Ranged - 99 (Soul Wars, Ranging Guild targets, Circus, Pest Control)
Prayer - 99
Summoning - 99 (Charm Sprites or lootshare)
Slayer - 99 (Soul Wars, XP lamps, Jack of Trades aura)
Best Melee Equipment:
Helmet: Player Owned Ports Superior Gear - Tetsu, SeaSinger, Death Lotus
Body: Player Owned Ports Superior Gear - Tetsu, SeaSinger, Death Lotus
Legs: Player Owned Ports Superior Gear - Tetsu, SeaSinger, Death Lotus
Boots: Emberkeen boots
Gloves:  Razorback gauntlets, Celestial handwraps , Ascension grips
Cape: Player Owned Ports Superior Gear - Reefwalker
Shield: Rise of the Six - Malevolent, Vengeful, Merciless

Completeable Quest with 9HP:
http://services.runescape.com/m=forum/a=924/forums.ws?20,21,229,63463228,goto,1
An asterisk (*) indicates damage must be dealt without a cannon where experience will be gained. (But not enough experience to level, as long as you have not gained experience any prior to doing the quest.) Be careful if you decided to attempt more than one quest marked with an asterisk. Research the quest to make sure you won't accidentally level Constitution.
Cite error: <ref> tags exist, but no <references/> tag was found