Recent wiki news
A Portuguese edition of the RuneScape Players Wiki has been created. You can view it here.
Please read: Vandalism is not the way to deal with an issue you have with the wiki. Any vandalism, including the mass creation of pages filled with nonsense, can and will be deleted or reverted within minutes of being detected. If you have an issue with the way the wiki runs, please create a thread at the Watercooler.
Discuss the merger of this wiki with other wikis about RuneScape players here.
Featured article

Zezima
, known outside
RuneScape
as
Peter Zezima
, is a cyberworld celebrity and Player Moderator who was the highest ranked person in
RuneScape
overall. He started playing in 2001, after a friend showed him the game, and has been playing since. He was the first player to achieve level 99 in
Slayer
, a total level of 1980 and 2079, and one billion experience overall. Zezima has been cited as "arguably the most famous player of the game", and had been quoted in the back of the book
Betrayal at Falador
. As of March 2013, he is ranked 121st in the
hiscores
.
Read more...
–
More featured articles...
Featured image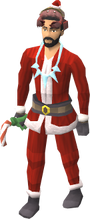 Alaester
is a Brazilian
RuneScape
male player who started playing in 2006. He is part of the clan Brazilian Skillers.
Which version of RuneScape do you prefer?