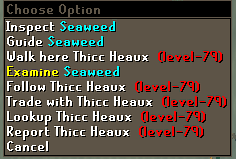 x Ian is a RuneScape account owned by RuneScape Players Wiki user IanT. He has had many previous name changes, since he has come to this one. Here are the names he's used and had since the name change update.
nicknames
Ian T 000 (original)
Mister Ian T
x IanT x
Staryu (one of the first 151 Pokémon, now retaken)
Jack Dawson (protagonist from the movie: The Titanic)
Weird Ian
x Ian
After all these name changes, he said quote, "I think I'll stick to something that matches my real first name again. It got weird after people called me Jack for a month."
RuneScape career
Currently he has 3 level 99 skills. They are as follows to when he got them, Firemaking, Woodcutting, and Magic. He talks about how only weeks after he got 99 woodcutting, he found 3 more of his friends are getting 99 woodcutting. "I've never been to so many 99 woodcutting parties in my life, and I don't wear that cape often, since it's becoming way too common nowadays. He has a goal to get 99 Cooking and Fletching on the same day, opposed to one by one, since those are very common and easy 99's to get within the game.
He decided to go for Firemaking as his first 99 because it was less common than Cooking, or Fletching, and he particularly liked the way that cape looks, whether trimmed or untrimmed. "After 99 Firemaking, it was a big goal of mine to get that trimmed, but without Cooking or Fletching," he quoted.
As for Magic, that was one of his goals since he started RuneScape back in 2006. Now achieved, he has been quoting how bored he's been in RuneScape. "I was so overwhelmed with 99 magic that I couldn't really find anything else to do, except Dungeoneering. So his main priority has been Dungeoneering since it is his lowest skill at the current time.
Ian has made some amateur videos on YouTube, based on RuneScape. His YouTube channel name is Iant0000, based off his first RuneScape username.
Ad blocker interference detected!
Wikia is a free-to-use site that makes money from advertising. We have a modified experience for viewers using ad blockers

Wikia is not accessible if you've made further modifications. Remove the custom ad blocker rule(s) and the page will load as expected.