A LITTLE BIT ABOUT YOU PICK IT:
You Pick It has been playing Runescape on, and off since 2004. Since then, he has levelled his skills considerably, and hopes to reach a total level of 2300+, beating his friend Evil Marsha. He is currently working on 99 slayer, and hopes to keep his combat relatively low while going after this goal. His favorite skill is crafting, and he can be seen wearing his crafting cape while running around Runescape for the most part. While preferring to be alone while playing Runescape, for the sake of attaining great rates of xp gain, he has recently been spotted in Telmomarques' friends chat, and is currently a member of the clan chat 'HAWK Hideaway'. You Pick It keeps his private chat set to friends for the most part, but if one were to ask him questions, or talk to him in the game, he is more than willing, to hold a conversation with people, and answer questions if he can. So, next time you see You Pick It in the game, be sure to say hello!
YOU PICK IT'S LONG-TERM GOALS:
- To bind a hexhunter bow
- To get an Elysian Spirit Shield
- To get a partyhat, and Christmas cracker
- To get 99 slayer, 99 runecrafting, and 120 dungeoneering.
PICTURES/HIGHSCORES INFORMATION FOR YOU PICK IT: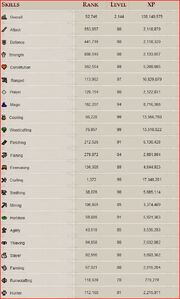 Ad blocker interference detected!
Wikia is a free-to-use site that makes money from advertising. We have a modified experience for viewers using ad blockers

Wikia is not accessible if you've made further modifications. Remove the custom ad blocker rule(s) and the page will load as expected.